Break Rock Brewing is dedicated to being an engaged community partner through our Community Cornerstones program. Let us help you, help others!
WHAT WE DON'T DO: SUPPORT INDIVIDUAL CHARITABLE EVENT/FUNDRAISER DONATION OR SPONSORSHIP REQUESTS, INCLUDING PRIVATE FUNDRAISERS SUCH AS RACES AND RUNS. This includes beer, merchandise/apparel, gift cards, space/room rental, cash gifts, sponsorships, etc. We are grateful for the interest but managing hundreds of these requests can be a little overwhelming for a small business! Instead, we have opted to work directly with our community partners as part of our COMMUNITY CORNERSTONES program to streamline engagement and maximize impact. Read on to learn more!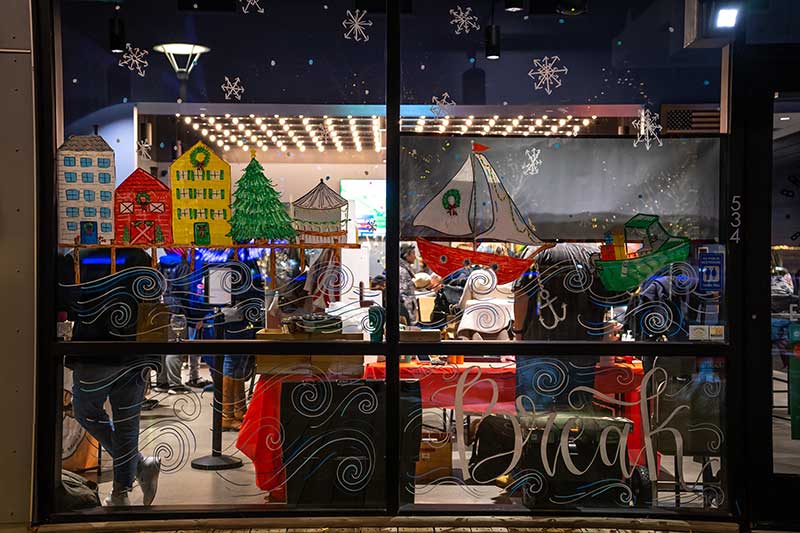 WHAT IS THE COMMUNITY CORNERSTONES PROGRAM?
We co-host fundraisers in our taproom. A portion of sales from beer and merchandise that night, as well as night-of fundraising (raffles, silent auctions, etc), go directly to the participating charity. We also waive our room rental fee/minimum for all participating eligible non-profits and provide you with the space for a maximum of five hours, staff support, access to on-site audio/visual equipment (televisions, blue tooth microphone, speakers, etc), co-marketing leading up the event, and more. Depending on the event size and date, your event could be a portion of our taproom or the entire space. The outdoor patio may not be available depending on the date.
HOW CAN MY ORGANIZATION PARTICIPATE?
Please fill out the form below. We will be in touch.
WHAT IF I WANT TO HOLD A PRIVATE FUNDRAISER FOR A 5K, MARATHON, ETC?
Learn more here. You can reserve space. Note that space rentals carry a minimum group spend to justify the cost of staffing and hosting an event. We do discount the rate for registered non-profits.
HOW MANY PEOPLE CAN YOU FIT INSIDE YOUR SPACE?
Maximum 199.
HOW DO YOU SELECT THE PARTICIPATING CHARITIES?
Preference is given to organizations that support, in order of preference: (1) Quincy (2) South Shore (3) Massachusetts (4) New England (5) National. In addition, preference may be given to missions that our management, staff, and customers support. Applications will be reviewed at least 30 days before the event by management and staff to choose deserving charities that could benefit. If you are selected, you will be notified. If you are not, you will automatically be considered for future openings.
Community Cornerstones Request
THE FINE PRINT / OTHER INFORMATION
Events must take place on a Monday, Tuesday, Wednesday, or Thursday, and potentially Sundays.

You will be required to submit a 501(c)3 certification letter before booking your event.

Not eligible for participation:

Non-registered 501(c) organizations;

Networking events, mixers, or conferences;

Events hosted by a retail company to bring attention to the organization itself, its products, or its services (i.e. grand openings);

Additional requests for the same organization in the same calendar year that has already participated.

Break Rock Brewing reserves the right to deny your application for any reason it sees fit.

Break Rock Brewing reserves the right to cancel the event at any time should we deem it necessary for any reason.

Break Rock does not serve food outside of light prepackaged snacks. You are welcome to bring in outside food/catering for your event to be organized and managed by the charity not at the expense of Break Rock Brewing. We do not provide cutlery, napkins, etc for food or drink other than our own beer available for sale on-premise.

Break Rock can ONLY sell and serve alcoholic products manufactured/sold on site. This includes beer, wine, hard seltzer, and hard cider. You are not permitted to bring outside alcohol into the space – it's against the law.

Funds raised will be sent to your requested address in the form of a check no later than forty-five days from the event.

WHAT WE NEED FROM YOU: Involvement! Strong turnout = more funding for you! Be sure to promote your event to ensure success!